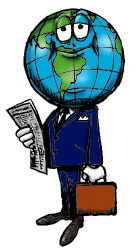 1. User Names/Privacy We respect your privacy at ONE WORLD TELECOMMUNICATIONS, INC. ("ONE WORLD").
(a) Your personal privacy is very important to you and ONE WORLD. ONE WORLD will not release any of your information to third parties unless required to do so by law. Prior to any disclosure, ONE WORLD will make reasonable efforts to notify you.
(b) User I.D.'s are used to log into ONE WORLD's systems. ONE WORLD will make every effort to accommodate SUBSCRIBERS' requests for personalized I.D.s. Your user I.D. will always appear in any electronic mail you send and in newsgroup postings. Your user I.D. will be shown in system utilities, such as "who", which shows the list of users currently on-line on the system.
(c) Normally, your full name will be in the password file's comment field. That name will be shown along with your user I.D. in electronic mail and news postings. You can have your real name removed from the comment field, so that only your user I.D. will be shown. You can put any comment in your comment field, although profanity will not be allowed. We encourage you to use your real name for the comment field. The password file is a read only file and you must contact your system administrator to make any changes.
(d) ONE WORLD has the right to reserve certain user names for internal or commercial use.
(e) Employees or officers of ONE WORLD do not inspect your personal files. However, files or messages may be seen during the course of system maintenance. No subscriber information of any type will be disclosed to third parties except under authority of law.
(f) All SUBSCRIBER files whether downloaded or uploaded are subject to electronic scans for detection of viruses.
2. Subscriber Records
(a) A copy of your billing agreement will be retained on file by ONE WORLD. Copies will be provided upon written request of subscribers..
3. Account Suspension & Cancellation
(a) ONE WORLD subscribers have the right to cancel their accounts at any time, for any reason.
(b) ONE WORLD reserves the right to suspend and/or cancel any account according to the terms and conditions in the Subscription Agreement.
(c) Monthly service is not prorated. Refunds for unused service are limited to fees paid for service subsequent to the month of cancellation.
3. Uploading Restrictions
Subscribers may not upload to ONE WORLD any commercial software or any software that is subject to distribution limits.

4. Change of Terms, Conditions and Services
(a) We reserve the right to change the prices or terms and conditions of service, at any time. However, prepaid services shall remain at the originally negotiated rate until the conclusion of the prepaid term of serrice.
(b) No change in terms or conditions may limit your right to cancel your service at any time.
5. System use policies
(a) The operating system does not prevent you from doing some things that may cause harm to the system or to other subscribers. For example, a malicious or negligent user can create a large number of processes and overload the system. Accordingly, all users are expected to use good judgment. Children should be supervised when using ONE WORLD's INTERNET service to avoid abuse of the system. The INTERNET is a tool, and like any tool, there are right and wrong uses.
(b) Use restrictions are specified in the Subscription Agreement, and additional restrictions contained in state and federal laws, statutes, and regulations are deemed to be public knowledge
(c) Background processes are permitted. You may suspend jobs as necessary, put them in the background, and run other programs as needed.
(d) If you leave behind a running process after you log off; we will normally assume that this was a stray process left behind and we will terminate this process to help reduce the load on the system. If you want to leave a process running familiarize yourself with the proper notifications to the System Administrator to alert him/her to your needs.
(e) ONE WORLD reserves the right to terminate background processes at any time to preserve interactive performance.
(f) ONE WORLD will not censor anything downloaded from INTERNET. Some newsgroup material may be offensive and if you do not approve of such material just "unsubscribe" that newsgroup. We respect our subscribers choices. This respect of "choice" carries a subscriber burden of properly supervising use by children or minors. Please take such supervision seriously. You are free to post an article to any newsgroups as long as you follow posting procedures. No commercial advertising is permitted except via a Web Site installed by ONE WORLD. However, advertising can be posted to the Community Bulletin Board or upon a specific request from an INTERNET user.
(g) ONE WORLD reserves the right to delete any Email left on any of our mail servers for more than 30 days. Mail received for inactive accounts (suspended or inactive by customer request) may be deleted at any time.
6. Procedures
If you have questions or any suggestions related to these Rules and Regulations, please send E-mail to "rules@owt.com".
7. User Responsibility
(a) ONE WORLD does not censor, limit or control the information that comes in and out in our system, except in accordance with the provisions of your Subscription Agreement and applicable law. ONE WORLD will review complaints from (i) other ONE WORLD users, (ii) other users on other hosts on the INTERNET, and (iii) such other information as may come to our attention. We will take immediate action against any ONE WORLD subscriber who abuses any ONE WORLD or INTERNET service.